Bell type Furnace
BELL ANNEALING FURNACE is widely used for annealing of steel coils. The coils can be of steel strips, steel wire or any other shape which can be loaded in the furnace. The furnace can be electrically heated, oil fired or gas fired. It can also be used for de-carburising of Stampings.
Bell Type Furnace is be a versatile furnace suitable for black, bright and spherodized annealing of steel and non-ferrous strips, wires and general heat treatment processes upto 1100░c.
The furnace is of cylindrical furnace in top hood design, that is the furnace kept on the fixed bases in the inverted position. An overhead crane of suitable capacity from one base to the another base carries the furnace itself. The Furnace shell will be of robust construction suitably reinforced with rolled sections. The furnace rests on the inner cover with ceramic fibre sealing in between. The inner cover rests on the base with neoprene seal in between for making the inner chamber gas tight.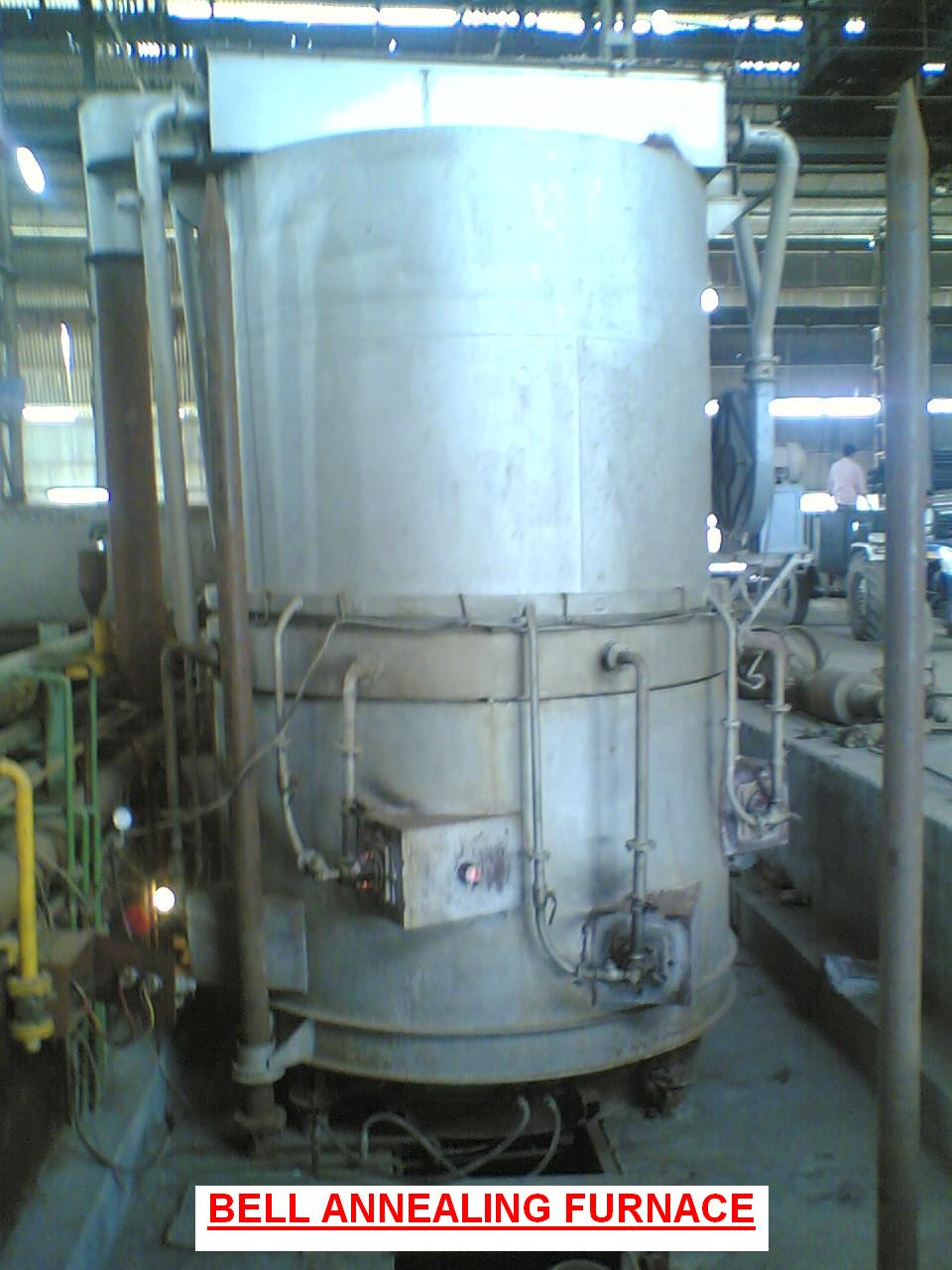 Typical Layout of Bell Type Furnace
Applications:
| | |
| --- | --- |
| | Black and Bright Annealing of Steel strips. |
| | Annealing of Steel Wire. |
| | Spherodized Annealing of Steel Wire. |
| | Normalising/ stress reliving of steel castings. |
| | Annealing of copper and aluminum products. |
| | Decarburising of stampings. |
Standard Effective Sizes:
| | |
| --- | --- |
| | Dia 800 X Height 1200 mm |
| | Dia 900 X Height 1500 mm |
| | Dia 1250 X Height 2500 mm |
| | Dia 1500 X Height 3000 mm |
| | Dia 1500 X Height 3500 mm |
| | Dia 1750 X Height 3000 mm |
| | Dia 1750 X Height 4000 mm |
| | Dia 2000 X Height 3500 mm |
| | Dia 2000 X Height 4000 mm |
| | ANY OTHER CUSTOM SIZE AS PER SPECIFIC REQUIREMENT OF CUSTOMER |
E-mail us: info@prolific.co.in, prolificfurnaces@gmail.com

Hit No.: